With summer here many people are making last minute vacation plans. Whether you're living in California now or plan on visiting soon, a road trip up or down California's coastline should be on your bucket list. We recommend you take a week to explore everything from Northern California's wine country to Big Sur's Post Ranch Inn and all the little gems in between. We've put together our dream California coast road trip to share and hopefully inspire you to do your own. We'll begin at the top and work our way down with some trip highlights.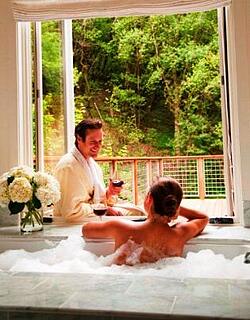 Start in Sonoma County- many people don't realize this but Sonoma has its own regional airport with direct flights to/from San Diego, LAX, Portland and Seattle.
Once you've arrived head over to the Farmhouse Inn to check in for at least a 2 night stay in the wine country. Enjoy a glass of wine on your private balcony, unwind from a day of travel and head down to the Farmhouse Restaurant for a fantastic dinner with wine pairings. Begin the following morning with the famous Farmhouse breakfast before you head out for a day of exploring.
Swing by Armstrong Redwoods for a quick hike, down to the Russian River for some kayaking and out to Jenner for a glass of champagne and oysters at River's End. Return to Farmhouse for a little self-indulgence: a spa treatment with steam shower sounds about right. If you're wiped out from a big day then we recommend an in-room picnic- stop by the Front Desk to check out their wares. The following morning its off to Highway 1 after another amazing breakfast.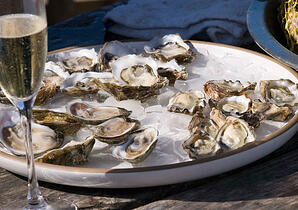 Take Highway 116 from the Farmhouse through the Russian River area out to the Sonoma Coast and Highway 1. Make a quick stop at Goat Rock Beach to stretch your legs and work off some of that breakfast. As you wind down Highway 1 enjoy a crab sandwich at one of the highway shacks. Stop in Bodega Bay for some sight seeing and to enjoy the town where Alfred Hitchcock filmed "The Birds." As Highway 1 curves in you'll come to Tomales Bay, home to Hog Island Oysters. It is on our list of must-see stops. We recommend making an appointments but you can drop in without one.
As you finish the day's driving you'll arrive at the stunning and historic Cavallo Point for a 2 night stay. Be sure to dine in the Murray Circle Restaurant and to try out the spa at least once during your visit.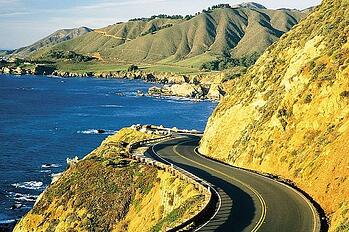 As you say goodbye to Cavallo you'll cross the Golden Gate Bridge and head south through the city and out of town to Carmel for a one night stay. With so many options we won't presume to tell you which to book, but we really love the old world charm of L'Auberge. While in Carmel use this time to stroll around downtown and to check out the local shops. For dinner, head up towards Monterey and enjoy the wonderful Passion Fish restaurant. Fresh seafood is the focus here with delights that will make your mouth water. If you call ahead of time you can have one of a selection of desserts waiting in your room for you on your return. Pack up the car the following morning, and onto the last 2 days of the trip.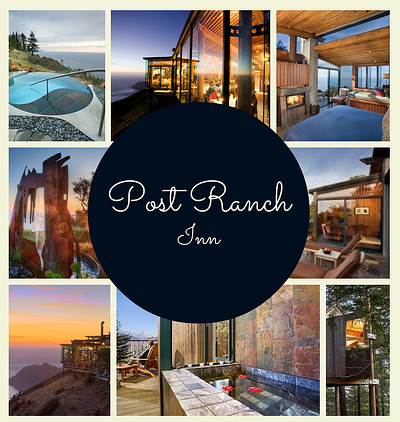 Winding down California's Highway 1 is one of the great joys of living in this state, but you must be prepared to take your time. Highway 1 is meant for leisurely drives, not speedy ones. Even so, it's just a quick 45 minutes down the highway to Big Sur, your final stop. World-class and universally recognized as one of the most luxurious of accommodations is the Post Ranch Inn. Two nights here and you'll return to the real world relaxed and happy. The ocean-view rooms are stunning and of course high in demand, so be sure you book well in advance. Big Sur is an outdoor lovers dream so we recommend taking the time to explore the beaches, mountains and cliffs. However, what you're really there for is to enjoy the spectacular room. From the charming wood-burning fireplace to the wall of windows and indoor/outdoor jacuzzi tub, the Post Ranch Inn Ocean Rooms are the perfect way to indulge but also enjoy the beauty of Big Sur. Our preference is to dine in the Sierra Mar restaurant at least one evening and enjoy a couple's massage in one of the stunning treatment rooms.

Have we inspired you to start your California road trip planning? We hope you come out for a visit, whether you're here to do some wine tasting or as part of a bigger vacation. All the lodging and restaurants mentioned can be booked directly or through a Concierge. Continue to check our website and Facebook pages for inspiration, new package offerings and the latest from us.