So much going on in the wine country this weekend after a wild week of Valentine's Day (and weekend) planning for our guests here at the
Farmhouse Inn
. The romantic dinners are going all weekend long in the
restaurant
with the finale on Tuesday. We have a couple of proposals in the works over the weekend and a couple more checking in for Valentine's Day and then on the day itself...one of our fabulous elopements-
our tiny weddings - they are just dropping in from Delaware for a little Farmhouse romance
!
Last week we had all the excitement from BedandBreakfast.com when they recognized Farmhouse as one of the
Top10 Most Romantic Inns
and then again we got noticed as one of The Most Romantic Inns in the U.S. from
FathomAway
. Right after I wrote the blog last week...TripAdvisor came out the 2012 Traveler's Choice Award for the
10 Most Romantic Hotels
...
You guessed it- Farmhouse again!

And Then...
CNN Travel came out with an article "Choose Your Own Romantic Adventure" - tips on making new romantic memories.
Oenophile bliss...Sonoma County Wine Country, California
"What better way to reconnect than while driving through Sonoma wine country, stopping to taste the terroir at wineries along the way? Visit Copain for the views and the pinot, Arista for the Japanese gardens and Lambert Bridge for intimate barrel-room tastings. Then settle in at the Farmhouse Inn in the heart of the Russian River Valley.
The inn's "barn rooms," situated in a grove of mature trees, are designed to blur the boundaries between outside and in. The "heritage rooms," meanwhile, range from huge luxury suites to compact queen-size spaces the innkeepers call "our little jewel box rooms." Be sure to check out the Sonoma Bath Bar with complementary seasonal scrubs, salts and soaps, and consider adding on the inn's special romance package, which includes chilled champagne, candles, cut flowers and an intimate couple's massage."
Wow...what a week! And it is not just us...the whole of Sonoma County is full of romantic events revolving around wine, chocolate, hearts and flowers. Just take a look at a few of the wine country events this week:

►Amphora Winery, 5th Annual Amphoradisiac Winemaker's Dinner Feb 11-Feb 12, 2012
► DeLoach Vineyards, A Zin Affair To Remember Feb 11, 2012
► Graton Ridge Cellars, Sweet 116
Feb 11, 2012
► Kendall-Jackson Wine Center, 3rd Annual Gumbo Smackdown at Kendall-Jackson
Feb 11, 2012
► Truett Hurst Winery, Valentine's Weekend Celebration
Feb 11, 2012
► White Oak Vineyards & Winery, For the LOVE of WINE
Feb 11-Feb 12, 2012
► Quivira Vineyards & Winery, Winter Farm to Table Dinner
Feb 11, 2012
► Alderbrook Vineyards and Winery, Wine, Music & Chocolate -
Feb 11, 2012
► Longboard Vineyards, Valentine's Day Aphrodisiac Dinner
Feb 11, 2012
► Geyser Peak Winery, Valentine's Crab Feast
Feb 11, 2012
► Pedroncelli Winery, A sampling: Port & G Lani Truffles
Feb 11, 2012
► VML Winery, Live Music, BBQ Food Pairings
Feb 11, 2012
► Stuhlmuller Vineyards, Sticky Barrel Tasting Event
Feb 11-Feb 12, 2012
► Stryker Sonoma Winery & Vineyards, Decadent Chocolate & Wine
Feb 10- Feb 19, 2012


I would say if you haven't decided what to do with your Valentine's Day yet...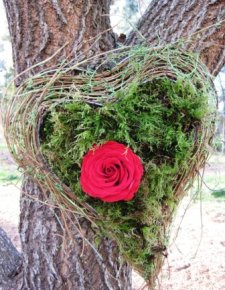 the wine country just might be the place to go. And if you want to visit the most romantic place on earth (according to the experts) Farmhouse Inn should be on your bucket list!
Our friends at Dragonfly Floral donated a picture of their Heart wreath with fresh moss and flower (in water tube so you can keep trading it out for a fresh look). In case you need a romantic idea...
Happy Valentine's Day!