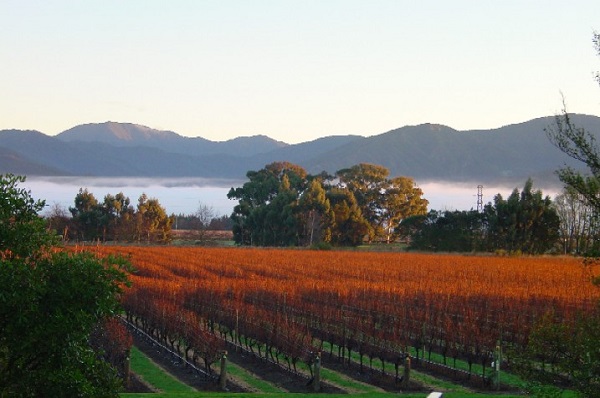 We freely admit it; we're spoiled here at Farmhouse Inn. Living in Sonoma County we have immediate access to some of the finest food and wine in the world; so imperative as we head into the holiday season. If you're hosting family and friends this season than you know how important the food and beverage menus are. A little more bragging about how great the food in wine country is (we promise we'll stop soon): Just this week the 2015 Michelin Guide was released – for those who don't know, the Michelin Guide was established in France and is a 3 star system of rating Restaurants, and is considered by many to be the most reliable restaurant ranking system in existence. As of 2015, Michelin rates only 3 areas within the U.S.: NYC, Chicago and San Francisco / Wine Country. In addition to world-class food, Napa and Sonoma are the gateway to international award winning wines from the U.S. Okay, we're done bragging now. You don't have to live in wine country in order to enjoy the best of the food and wine world. Here is what we're eating and drinking this holiday season:
Thanksgiving
You have your classics of course: turkey, ham, potatoes, gravy, and many other accoutrements. Here at Farmhouse Inn we certainly serve up a classic meal (sorry, we're already sold out for this year!), but if you're anything like our Concierge team you sometimes enjoy something a little left of normal. This Thanksgiving, in addition to watching football, we'll be serving up ahi tuna, kale salad, and spiced honey cake with caramelized figs to name a few. (Since we're at the end of fig season you can use jarred figs or substitute with persimmons). Quite the menu – yes, we're patting ourselves on the back!
With so many flavors and varying levels of sweet and spice, it's important to pick wines that work well with a variety of dishes. There are several wine varieties that are easily paired with a holiday menu. One of our favorites is Grenache – light, fruity, just a hint of earth and spice. From the same neck of the woods (Rhone) is another classic – Mouvedre. Mouvedre is well known as the "meaty" grape. It tends to almost have a brined / salty profile. It is excellent with most holiday meals as it truly compliments almost anything. Some of our favorite domestic Rhone wines come from Dry Creek Valley. Check out the current offerings from Quivira and Frick wineries – place your orders soon because the holidays will be here before you know it!
Christmas
If you're more of a traditionalist when it comes to the holidays- fret not! Our classic wine country menu begins with citrus champagne cocktails (as all meals should), before we move onto roast beef with red wine gravy, butternut squash – apple soup, and sweet potato crème brulée. Keeping the holiday menu seasonal is an easy thing to do in wine country with so much to choose from year-round. Some of our favorite winter items are listed in our menu above - butternut squash, persimmons, sweet potatoes, and kale.
Just like with our Thanksgiving menu, it is important to find wines that work well with a range of dishes. Considering that our entrée contains red wine gravy it is important to serve red wine with that dish. In this case we're inclined to go with a well-balanced Bordeaux blend from our neck of the woods. Consider the exquisite wines from Calluna Vineyards. The limited production release of their Cuvee blend tops our list of holiday wines. If you're more of a Pinot-file consider the 2012 Laguna West Pinot from Fog Crest Winery. You probably have at least one family member who refuses to drink red wine – there is a solution for these picky drinkers. Try orange wines. Hear us out – orange wines are actually wines made from white wine grapes. The winemaking techniques used for these wines veer away from traditional white winemaking practices, and include skin fermentation. One of the most popular "orange wine" grapes in Sonoma County is Trousseau Gris – check out the offering from Two Shepherds. The orange wines work for the bolder dishes because of their larger body and complexity. The unexpected aromas of watermelon and red berries are often conversation starters at the dinner table.
New Year's Eve
Champagne. Really! Do you need anything else?
To stay current with the latest news in wine country and happenings at the Farmhouse Inn be sure to follow us on Facebook, Twitter and Instagram. To book your holiday visit to the Farmhouse Inn contact your concierge at innkeep@farmhouseinn.com or by calling 707-887-3300.