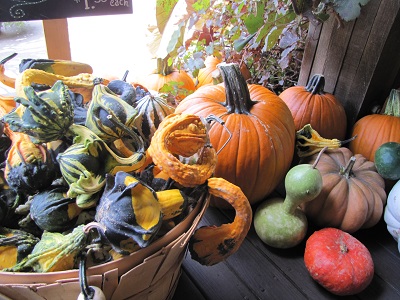 There is much to love about wine country in the fall; the changing colors of harvest time, the seasonal foods, the Halloween parties, and of course, the wine.
In wine country we know how to celebrate our favorite time of year with style. All around Sonoma County the pumpkin patches and corn mazes have begun to open, the vineyards have caught on fire with bright hues of red, orange and yellow, and the old barns dotting the countryside seem to take on a special haunted appearance just for the season. If you're coming to Sonoma or Napa any time soon, there is plenty to do. Whether you're looking for grape harvest activities, film festivals, or Halloween celebrations, you'll find them in wine country.
October is a turning point for us here in wine country. Harvest is almost finished, and just as we take the our favorite costumes out of the closet for Halloween parties, we will see the very last of the fruit come in. All the grapes that stubbornly waited to ripen finally seem to give up the ghost (pun intended) and are perfect for picking the last week of October. (Out of the vineyard and into the cellar – just in time too. Who wants to celebrate Halloween and get up at 4 am the next morning to pick grapes?) Come to wine country to celebrate the harvest in the next few weeks; you'll have a splendid buffet of options to pick from. Coming up next week Bacigalupi Vineyards will be celebrating their Fall Release and Harvest Celebration. BBQ, grape stomping, not to mention all the flowing wine! If you're looking for an evening affair the Trione Winery family will be hosting Dinner Under the Stars the 19th of this month. Dinner in the vineyards (wines included of course) and Bocce Ball – we hope to see you there!
Many festival and event weekends happen this time of year; we think that there are two standouts. One of the largest events in North Bay is the Napa Valley Film Festival. Spanning 5 days, with 125 screenings, 300 directors, 50 chefs and 125 wineries, the event is on our bucket list. Screened films will range from documentaries and narratives to genre films like "The Fault in Our Stars". If you're not a film buff Pinot on the River may be more your speed. Sunday, October 26th the downtown Healdsburg square will become a Pinot Heaven – 100 small lot Pinot producers will take over the square pouring some of their most exclusive offerings. Around the square artisan food truck vendors will be setup to offer up delectable bites. The tasting is one day only and tickets sell out quickly. For more information on the event and to purchase tickets, visit www.pinotfestival.com. And the first weekend of November brings the Wine and Food Affair a premier event from our friends at Wineroad.com with a focus on pairing wine with food. A great way to enjoy fall in the wine country.
Pumpkin patch or corn maze – Sonoma will delight you with plenty of Halloween activities during the month of October. The premier pumpkin patch experience can be found at McClelland's Dairy Farm in Petaluma. If you get hungry while you're picking out your organic heirloom pumpkin you can visit their food cart featuring grilled cheese sandwiches, milkshakes, popcorn and espresso drinks – all organic of course. Make a day of it and head out to the Sonoma Coast to visit the location where Alfred Hitchcock filmed "The Birds". For an adrenaline rush Halloween experience there are two great options – Blind Scream Haunted Mansions and the Hitchcock Film Noir Party. Blind Scream in Rohnert Park includes 3 haunted Mansions, "The Last Ride", food trucks and a good old fashion Halloween scare – all for the bargain price of $20. A bit more tame but no less thrilling is the Hitchcock Film Noir Party at Buena Vista Winery in Sonoma. Celebrate the "Master of Suspense" with great wines, food, film clips, and mysteries to be solved – costumes are encouraged and proceeds from the event will benefit Sonoma Valley Media Arts Program.

So much to do and so little time... If you need to speak with a Concierge to plan an upcoming visit click here. To stay up to date with our latest jaunts and newest discoveries follow us on Facebook and Instagram. To receive our latest specials sign up for our Mailing List. Sonoma on your brain? Be sure to visit our 4th Night Free special - it'll turn you from thinking about a vacation to actually booking one. We hope to see you in Wine Country soon!