Executive Chef, Steve Litke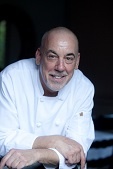 Each plate that Michelin starred Chef Steve Litke creates tells a story about Sonoma County. Its incredible diversity of agriculture and artisan producers, its rich California heritage of Italian, French and Mexican immigrants and its consistent focus on organic and sustainably farmed fruits and vegetables enable our chefs to create delicious, wholesome and intensely flavored dishes that rely entirely on what is seasonal and at its peak. In spring it's all about local, wild salmon from the Sonoma coast- half an hour away, baby lamb from the farmer up the road, pea shoots from the chef's garden and fava beans from a Healdsburg neighbor... summer brings its hoards of heirloom tomatoes and herbs from our Bartolomei ranch, down the road and fresh cheeses from the goat dairy a few minutes away. Each season has its own roster of flavors, textures and even colors.
Pastry Chef, Phil Ogiela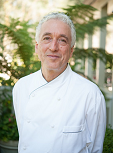 Phil is a well respected and established Bay Area pastry expert. He's spent time in some of San Francisco's most well-regarded kitchens, including The Fifth Floor. Phil's style of deceptive simplicity is a perfect fit for the Farmhouse Inn Restaurant team, which he joined in the spring of 2014. Phil's desserts have a lightness to them that continue to delight and surprise us. Phil received a full academic scholarship to Pepperdine's Master's Program and began working in the school's kitchen in order to earn some spending money. As most kitchen careers begin, Phil's started with washing dishes and mopping the floors before he started making bread in the school kitchen. This snowballed into a bread baking business- Phil was being approached by restaurants, locals and culinary programs. It was at this time that Phil met Mr. George Hanna. Phil began a two year informal apprenticeship with European Master Baker Mr. George Hanna provided Phil with an education in haute cuisine, bread and pastry. Phil and his wife currently live in Sebastopol.
Estate Wine Director, Allyson Gorsuch
As Farmhouse Inn's Estate Wine Director, Allyson Gorsuch oversees the many wine programs at the Farmhouse Inn, including the Michelin-starred Restaurant Wine List, which is full of interesting international selections. After a decade of traveling and working in large and small restaurants and hotels, Gorsuch has taken Farmhouse Inn to a new level of excellence by creating a distinct Sonoma County experience through thoughtfully designed wine tastings and educational programs for Farmhouse Inn guests. Gorsuch brings her international experience to her new role as a standout in the wine, culinary, and hospitality industries. A connoisseur of the finest wine and food, Gorsuch is responsible for continuing to develop the successful wine pairing program to complement Chef Steve Litke's subtle, delicious flavors along with wine purchasing and sommelier training for the restaurant. Allyson has worked in Australia, Chicago, Vail, Alaska and the Virgin Islands … to name a few. Allyson's history within Wine Country also includes a harvest at Gary Farrell as well as a position as the Front of House Manager at Cakebread Cellars.
Estate Chef, Trevor Anderson

A long-time resident of Sonoma County and wine country connoisseur, Trevor Anderson has quickly drawn a following in the Russian River Valley with his sophisticated out-of-the-box approach to contemporary and healthy cuisine. As the Estate Chef at Farmhouse Inn, Anderson oversees the culinary direction and kitchen operations for all of the hotel's breakfast and daytime cuisine, including menu creation and development, kitchen management and training. Spanning over a decade of executive-level culinary roles at various award-winning and Michelin-starred fine dining establishments, Anderson brings to Farmhouse Inn a new phase of culinary excellence with seasonally-dictated, market-inspired and locally sourced offerings. With his passion for fresh contemporary California cuisine, Anderson's locally-driven breakfast dishes at Farmhouse Inn feature fresh signature items including Summer Squash and Pesto, Yogurt Panna Cotta, Egg in a Frame and White Gazpacho.