A Singular Stage For Small Meetings In Sonoma
Why hold a meeting when you can create an experience? Whether you are reimagining your company, planning strategies for the coming year, fostering team work or launching a new strategy to take your leadership team to the next level, Farmhouse Inn is the perfect meeting place. With just 25 rooms set amid rolling hills and rambling vineyards, we're perfectly suited for small meetings and executive retreats that require privacy, security and all the luxury you'd expect from the hotel rated #1 in California by both Travel & Leisure and Condé Nast Traveler.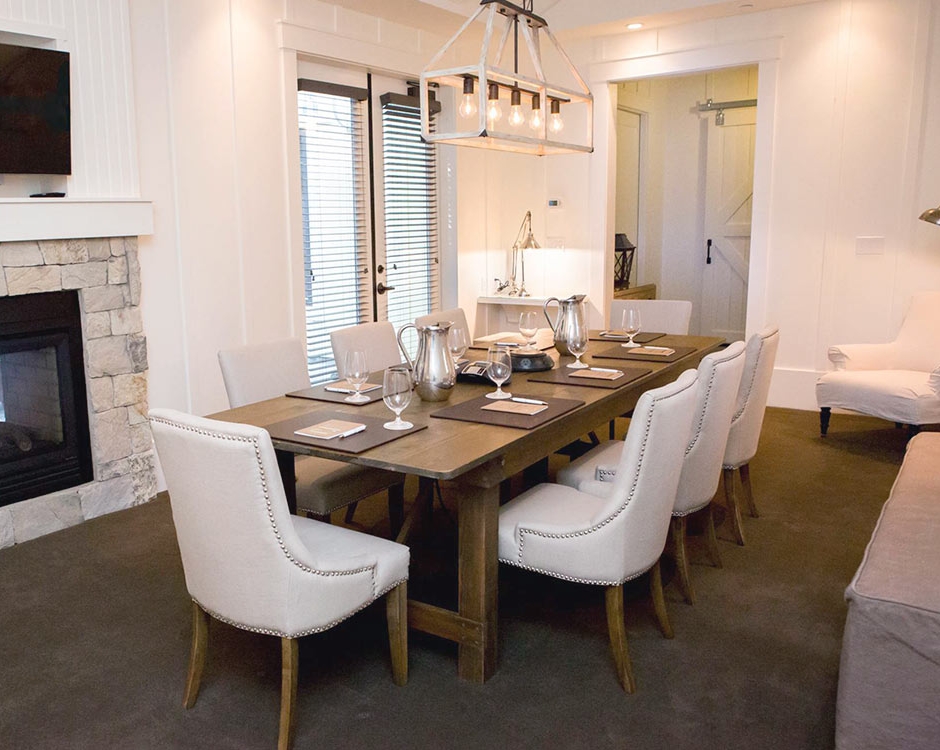 Meet Our Small (But Mighty) Venue, The Grange
650 sq. ft | Accommodates:
• 6-14 for board meetings
• 20 for receptions
Our executive boardroom, located in a stylish contemporary barn sublimely styled and expertly fitted with all the high-tech essentials. This private meeting retreat has soaring vaulted 12 ft. ceilings, an indoor/outdoor fireplace, large marble bathroom, and a spacious private patio for breaks or break-outs. The oversized boardroom features a handsome wooden farm board table with upholstered linen chairs, a 42-inch wall-mounted TV for presentations, and (best of all) seamless access to Farmhouse Inn's acclaimed, Michelin-rated cuisine.
After-The-Agenda Adventures
Set in the middle of the Russian River Valley, Farmhouse Inn offers an extensive list of local curated activities, from wine country adventures, to hikes in the old growth grove of redwood forests, to off-property artisanal dining in Healdsburg. Activities for groups include yoga, photography, biking, zip lining, Sonoma Coastal excursions, a trip to a wild animal park, even hot air balloon rides. Sonoma is nature's playground for culinary, wine making and soft adventure activities.
The Art Of Award Winning Dining
Farmhouse Inn Restaurant has been awarded One Michelin Star for the past 12 consecutive years. We are dedicated to the slow food movement and have been for decades, sourcing as much as we can from our gardens, our local neighbors, and other small producers who share our dedication to artisanship. Our menus are fully customizable. Breakfast and lunch are offered in the restaurant's Garden Room for up to 14 or enjoyed on the sun dappled flowering courtyards, just steps away. Add in local organic FARMSTAND, our newest food truck concept, for fun and interactive lunches. Dinner options can be provided upon request. Options range from a Michelin Star 4 course feast with award winning wine pairings, to local fresh and Sonoma casual "family styled" dinners under the twinkling lights on the flowering Courtyard.
All The High-Tech Essentials
We're pleased to partner with CMAV to professionally facilitate all of your A/V needs. Your Farmhouse Inn Events Manager will work with you to review your needs and ensure that everything is where you want it, when you want it. All A/V charges will be billed through your hotel master account and are subject to a 22% service charge and 8.125% sales tax.
If you're interested in hosting a meeting or business event at the Farmhouse Inn, please complete our online RFP.
You'll also find all the nitty gritty details right here.
We will be in touch very shortly. To speak with someone more immediately, please call 707-887-3300, extension 308.
Become A Farmhouse Friend