From Our Sonoma Farms to Your Table
OPEN THURSDAY - MONDAY FOR DINNER | 5:30 PM
What happens when two fifth-generation Sonoma farmers, a world-class maitre d' and a team of sommeliers conspire? Some call it magic...We call it Farmhouse Inn. Our restaurant has long been the cornerstone of our hotel. Fueled by ingredients straight from Joe and Catherine Bartolomei's ranch or discovered by the chef on his daily farm stops en route to the inn, our menus are ever-changing and rely exclusively on not only what is fresh and seasonal in Sonoma County, but on what is perfect, unexpected and delightful. Our service is friendly yet infinitely professional and sophisticated, carefully orchestrated down to the smallest detail. The wine program offers opportunities to experience not just the finest wines of the Sonoma and Napa wine country, but those most perfectly suited to complement the dining experience we strive to create.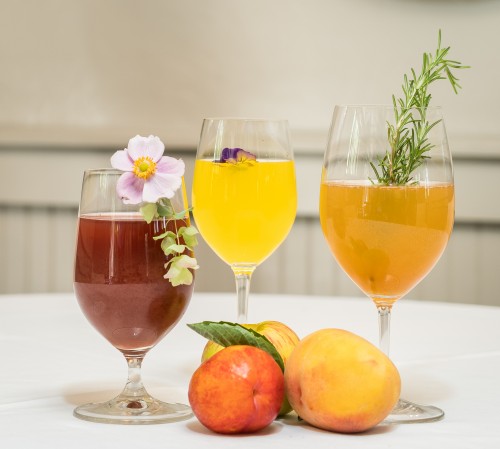 Hand Crafted Juice Pairings, All the Taste but None of the Alcohol.
We proudly introduce hand-crafted, non-alcoholic pairings. Explore our newest experience paired with our fine dining menu with a fresh seasonal new take on the famous Farmhouse Inn pairings perfect for designated drivers and other non-drinkers, These artisanal juices are rich in quality, complex and multi-dimensional. They're fueled by local and property raised fresh herbs, honey, grape varietal vinegars, and sparkling water.
In order for us to source the freshest available ingredients, please provide advance notice for non-alcoholic pairings.
We do our best to update the menu online regularly, although it is certainly subject to change day-to-day.
The Restaurant is really what put Farmhouse Inn on the map, so a stay would be incomplete without enjoying a 3 or 4-course dinner. Its not a set menu, so you have plenty of options within each course. I enjoyed a couple of their signature dishes (the Octopus appetizer and Rabbit entree), and quickly understood why they don't leave the menu. Delicious!
- GQSFGUY - San Francisco, CA
I will say that my wife and I thoroughly enjoyed our meal, and that although she did not like the idea of eating rabbit, she ordered it and thought it was excellent. I had the steak and it was perfect. Great Meal.
- Geoff O. - Elon, North Carolina
If you are ever going to be in the Russian River Valley, you must at least have a meal at this great place. I was looking forward to this dinner since the time I booked it. And it was everything I could hope for and more. My wife and I enjoyed every moment. It feels like you're entering somebody's home and you are treated that way as well.
- sjbmaltese - Pacifica, CA
Our Policies
Reservations: The Farmhouse offers a small and intimate dining experience. We strongly urge you to reserve in advance. We request a credit card number to hold all reservations. 

Corkage Fees:  While we do have an extensive wine list, personal wines are welcome. We charge a $50 corkage fee per 750mL with a 1500 mL maximum per reservation.
Dress Code:  We call it Wine Country Casual. Gentlemen are not required to wear a jacket or tie. No shorts please.

Gift Certificates: Available from $100 up, Farmhouse gift certificates are a delightful and appreciated gift for holidays, weddings, birthdays, anniversaries and other milestone celebrations.

Children: For our fine dining dinner service, to protect the culinary experience at Farmhouse, children 8 years and older are welcome to dine in the restaurant. Dinner can be served in room.
Large Parties: Unfortunately we do not take groups larger than six as our kitchen and dining room are not equipped to handle more than that.
Fragrances: We do ask that out of respect for other diners, you kindly refrain from wearing any fragrances.
Cake Cutting Fee: We understand that many guests are celebrating something special. If you'd like to bring a special cake, please be aware there is a $15/person fee. Please inform our reservationists in advance if you will be bringing a cake.
Cancellations: Must be received at least 24 hours in advance to avoid a $20/person fee.
Become A Farmhouse Friend