Award Winning Sonoma Spa Treatments and Rituals
THE SPA IS CURRENTLY CLOSED
HOWEVER WE ARE NOW OFFERING LIMITED IN ROOM TREATMENTS FOR HOTEL GUESTS ONLY
. PLEASE CALL

707-887-3300
TO BOOK.
The Spa is located in the open-air atmosphere of the Wellness Barn. Oversized treatment rooms open to private back porches with showers; an ideal place to receive the gift of healing hands. We have strict protocols for the safety of you and our team's protection during this time, so you can fully let go. Nourishing massage oils are created at our Apothecary cart blending essential oils specific for your well-being. Please call 707-520-0237 to speak with the Spa team.
View Our Policies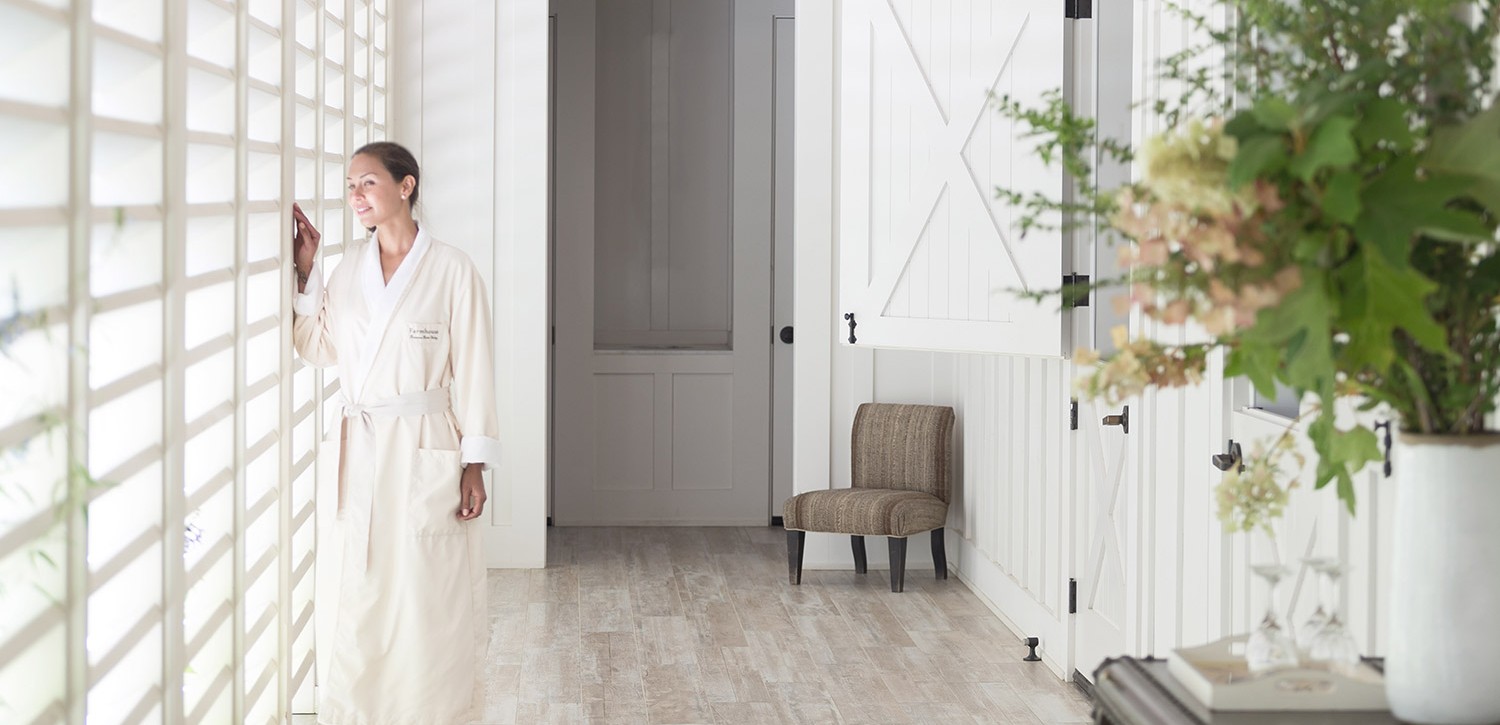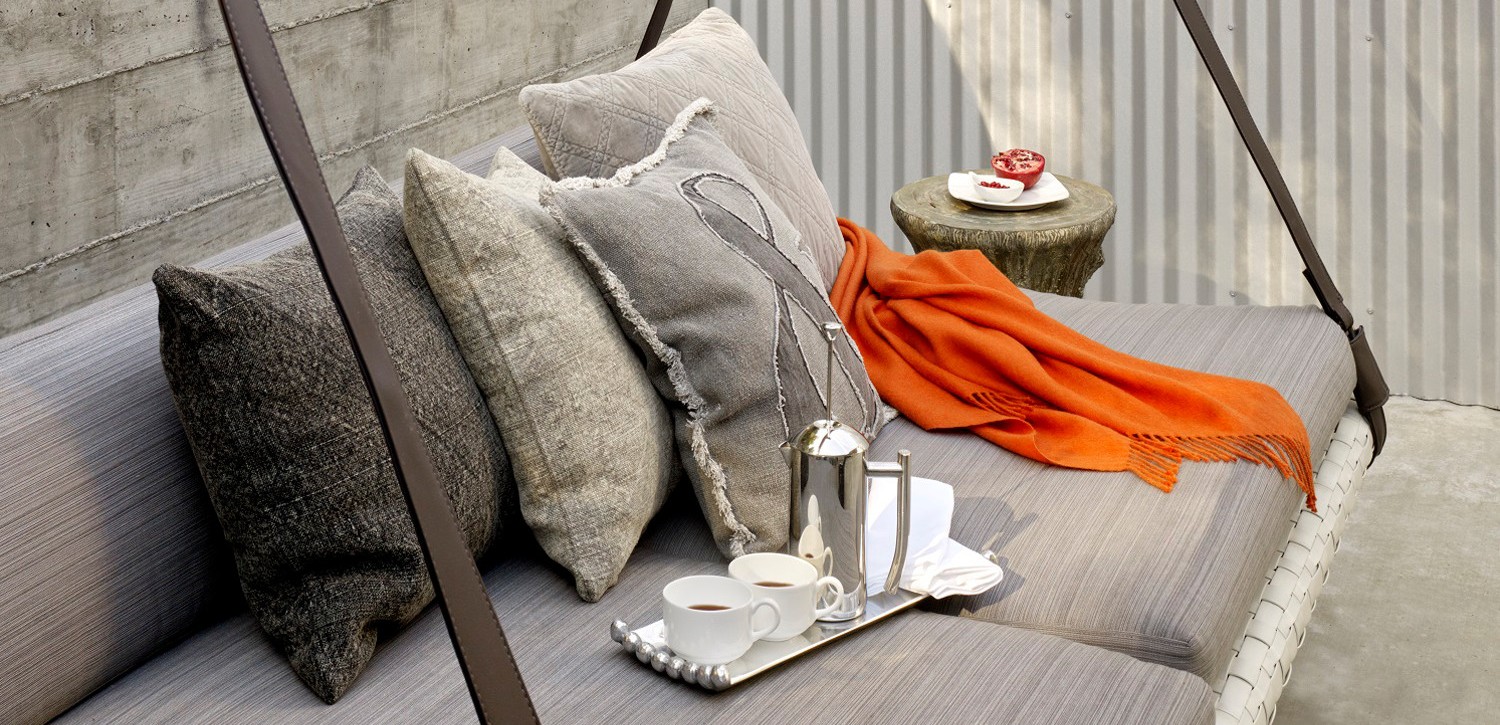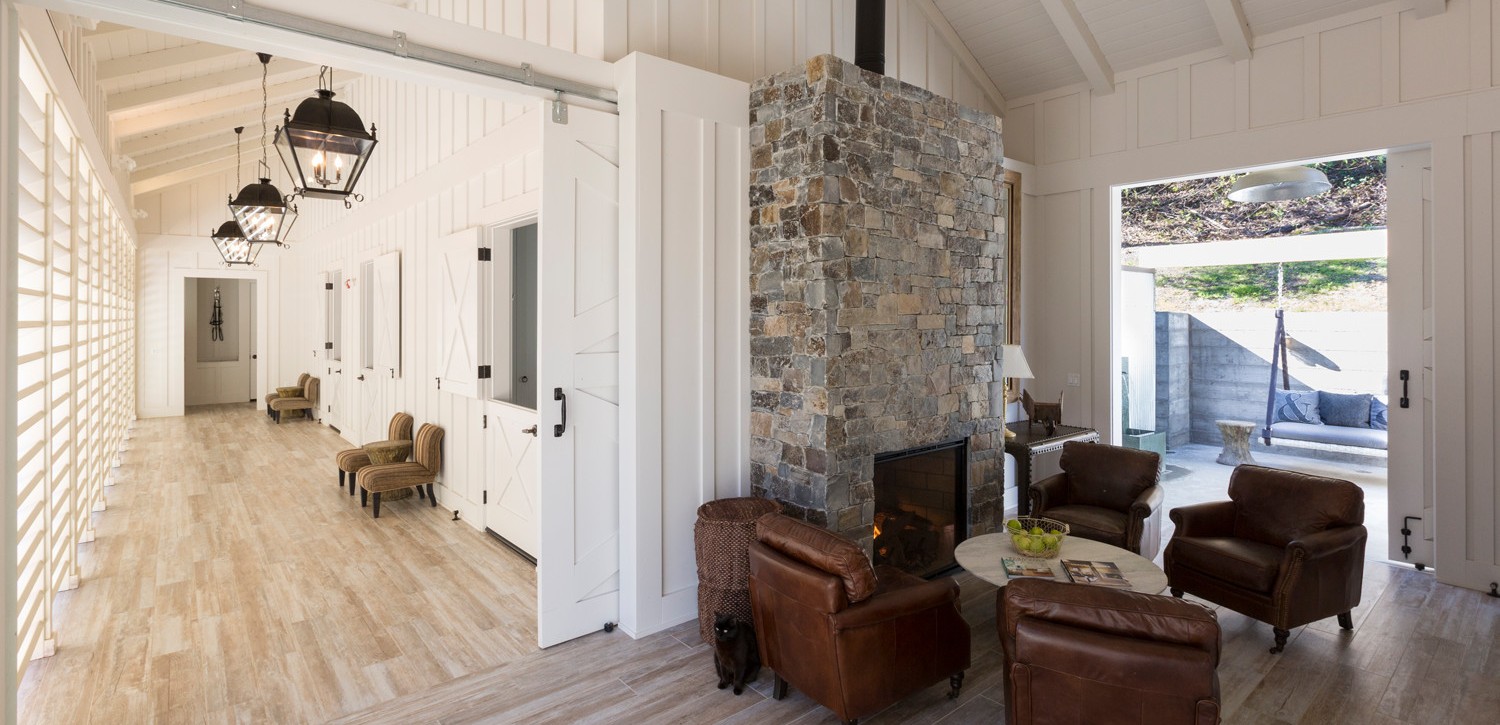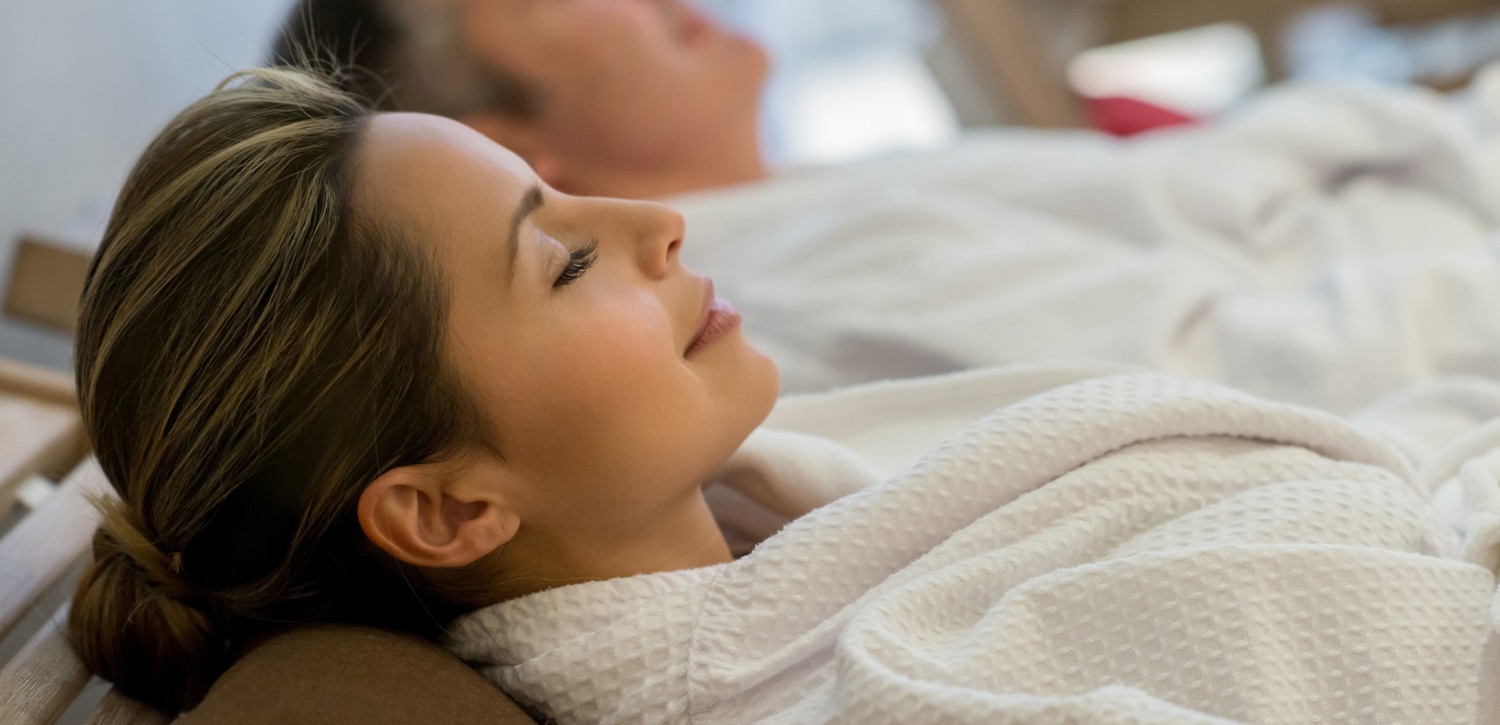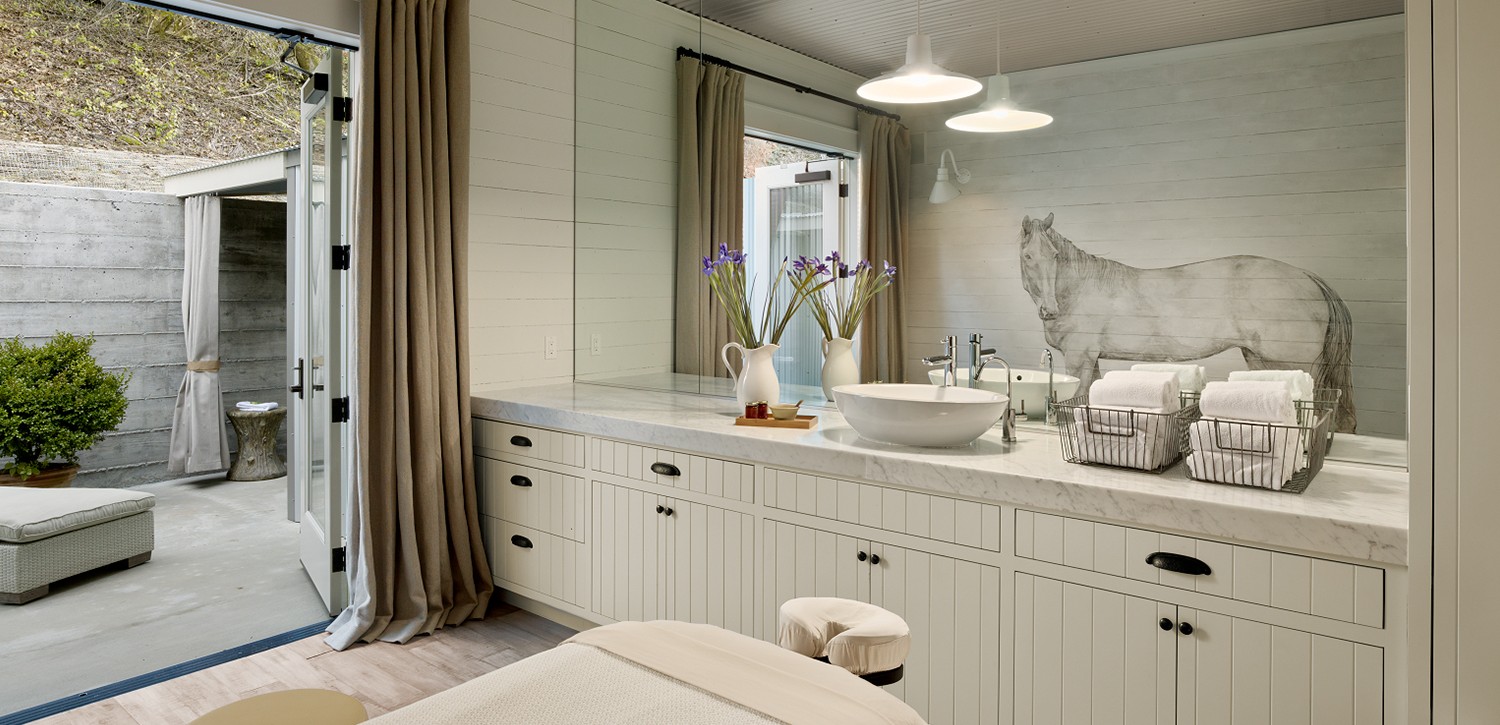 Spa at Farmhouse Services:
Apothecary Selections
The Personal Apothecary
This signature spa experience begins with an interactive spa consultation using a state-of-the-art app to create the customized spa treatment of your dreams. Together you are intuitively guided in making a unique blend of therapeutic oils specifically for you, which is used throughout your Personal Apothecary service.

Massage 75/90 minutes | $235/ $280
Wrap or Scrub + Massage 90 minutes | $290
*Personalized blends for home care or gifts are available at the Wellness Barn Boutique.
Massage & Bodywork
The Farmhouse Massage 60/75 minutes |$185/$230
This Farmhouse Inn favorite allows you to choose the type of massage you need, from slow and soothing to firm and deep. A selection of immune-enhancing oiks made at the Spa at Farmhouse are available to customize your service. For Singles or Couples.
Mother-To-Be Massage 60 minutes |$185
Appropriate for all stages of pregnancy. We give the utmost care to your comfort level by using professional body-support cushions and pillows. A soothing blend of oils replenishes your skin and soothes your soul as your therapist targets the areas of tension that are most common during pregnancy.
Extremity Massage 60 minutes |$180
Your head, neck, shoulders, hands and feet are soothed and cared for, while you rest soundly and comfortably on the table.
CBD Massage 60/75 minutes $195/$250
CBD is known for its superior anti-inflammatory qualities and is beneficial for body and mind. Our CBD contains skin-nourishing oils of lavender, avocado, and grape seed. Plan of a CBD soak after your massage with our take-home CBD bath bomb.
Massage Medley 90/120 minutes |$280/$375
The best of all possible massage worlds! A masterful blend of healing hands, warm gliding stones and aromatic hot herbal towel infusion makes this medley the ultimate path to bliss.
Warming Ginger Honey Massage 60/90 minutes |$185/$285
Relax as the healing properties of ginger and honey seduce the senses, revitalize your skin and enhance your immune system. A complexion-brightening bee propolis back mask and a honey and glycerin mini-facial are both included within the 90 minute session.
Steamy Herbal Compress Massage 90/120 minutes |$280/$375
Large steamy compresses are filled with a special blend of herbs and rolled on the body to soothe the nervous system and help calm inflammation in muscles and joints. The therapists combine stretches, massage and these warm compresses to take you beyond a blissful state of mind.
Farmhouse Inn Signatures
Massage Medley 75 minutes |$240
The best of all possible massage worlds! A masterful blend of healing hands, warm gliding stones and aromatic hot herbal towel infusion makes this medley the ultimate path to nirvana. Our immunity boosting blend of Frankincense, Tea Tree, Orange and Lemon are used in this treatment for full body absorption.
Catherine's Favorite 75 minutes |$250
Massage + Hair & Scalp + Foot exfoliation
This head-to-toe experience is a favorite at some of the most prestigious spas in the world and one of our owner's favorites. A lavender-orange hair and scalp treatment invigorate the scalp and moisturizes the hair. A lavender tangerine body butter massage and lemon verbena foot scrub treatment are masterfully woven together to create a flowing experience, leaving you happy head to toe.
Scrub, Rub and Shrub 75 minutes |$240
Seasonally, our spa apothecaries and estate chef team up to create a synergistic seasonal body scrub and healthful prebiotic shrub to drink, from the Farmhouse kitchen garden and local purveyors. You may blend your seasonal scrub ingredients by hand or watch as your therapist crafts it for you. Enjoy a full body exfoliation, an outdoor shower and a massage , as you toast to your health with a refreshing shrub. Summer Seasonal Scrub: Peaches & Cream
Skin Care
The Wellness Facial 60/75 minutes |$240/$295
Facial with LED Light therapy + Meditation + Home Care Gift
This individualized facial and body relaxation with organic products that help to enhance the immune function. A flow from self-care to hands-on by your esthetician will empower you to have a successful home care routine. A guided meditation will lull you into a deep relaxation while your skin absorbs Hyaluronic Acid, Vitamin C + LED Light. This helps to facilitate a collagen boost while your hands are soaking up a deeply nourishing potion. Next, a luscious plant based mask will envelope your skin while you will enjoy a foot massage. A VDO link will be given to you to use at home to inspire home care. .
*This facial includes a $50 credit for the products you fall in love with!
Organic Radiance 60/75 minutes |$205/$260
for dehydrated or maturing skin
Formulated with natural ingredients, modern naturopathy, and the ancient wisdom of energy activation point therapy; this facial detoxifies, hydrates, and nourishes the skin helping to defy signs of aging, dehydration, and stress. Leaving your skin looking and feeling fresh, deeply nourished, and radiant.
The Farmhouse Custom 60 minutes |$190
for all skin types and genders
Seasonally enhanced to captivate your senses. Our Farmhouse Custom Facial features innovative skin science to maximize your desired results. After a skin consultation, your esthetician will decide what solution-oriented skin care is best for your current needs addressing areas of concern and embracing your skin's natural health and beauty. Our no-nonsense men's line "OM for Men" is developed by men and for men.
Deep Rest and Refresh 75 minutes $265
Express Facial + Foot Treatment + Power Nap+ Microcurrent Eye Lift
An Express facial that offers exfoliation, nourishing rose hyaluronic serum, and a powerful antioxidant mask for face, followed by hydrating oils and moisturizers specific to the skin's needs. The feet are cocooned in warm booties after a hydrating mask is applied. A Microcurrent Eye Lift refreshes the eyes and Biotic Nap simulates 4 hours of sleep in 30 minutes. Allowing your entire being to be refreshed, revitalized, and renewed.

Please Note: During Covid-19 advanced booking is required for facials.
Time for Two
Playful Passion (for In-house guests only) 60/75 minutes |$195/$245 per person
Playtime begins with exfoliating each other with a special scrub in your own private steam room. Following the steamy session, you will head to the spa to receive a side-by-side lover's massage with an intoxicating blend of orange and madagascar vanilla oils. Once back in your private room, luxuriate together in a sensually-scented, skin softening bubble bath. Complete the evening with a game designed to inflame your passion for one another.
Couple's DIY Scrub + Bath + Massage 90 minutes|$285 per person
The fun begins at the Spa on a private couple's room patio. Start with exfoliating each other in the outdoor shower with our Apothecarist's edible mocha scrub before jumping into the tub to enjoy a special milky mineral soak, as it foams releasing an intoxicating blend of coconut, orange, and with a sweet kiss of cinnamon. Continue the romance with a side-by-side massage using a sensual blend of vanilla and blood orange oil.
Ultimate Bliss 75 minutes |$190 per person
CBD Bath Bomb + Massage
Begin by soaking in the private outside tub with a CBD bath bomb to prepare the body to receive a couples CBD oil massage.
A Roll in the Hay (weather permitting) 2 hours |$390 per person
Begin with a couple's mocha scrub to smooth the skin and wake up the senses. After an outdoor rinse, cozy up next to each other on a heated, private back porch lounge nestled between flannel sheets while aromatic herbs and sweet alfalfa is rolled over your bodies. A side of seasonal treats from our estate kitchen and wine is yours to share with one another as you rest cozy and content. Once your bodies have melted, sip on aphrodisiac elixirs and enjoy side-by-side massages with our sensual blend of oils (weather permitting).
Fresh Air Massage
Enjoy any of the Massage & Body Work offerings on the privacy of your deck, weather permitting. Additional $20.
Become A Farmhouse Friend